Every year when stores put out their Christmas decorations I immediately start hunting for things that could be mistaken for '50s/'60s vintage. It's usually cheaper than actually buying vintage ornaments or decorations on Etsy or Ebay, and you can buy multiples of something that you really love instead of only finding one.
I thought I'd do a little round-up of my favorite vintage-inspired decorations that I have on display this year! First up is this little bird ornament that I found at Target! It's available
online here
.
This matching deer doesn't appear to be for sale online, but I found her in the same section as the bird at my local Target. I actually got a few of these exact same deer last year, too, so hopefully this is something they'll be bringing back every year now!
This little ski lift ornament is also from Target this year (but not available online.) I love hanging ornaments around the house off of the tree to add little bits of Christmas everywhere :)
I picked up several of these cute little felt deer! They look so vintagey and cute! These are also from Target and they're available
online here
.
This picture doesn't do these ornaments justice. They're mini ornaments inspired by the vintage glass ornaments that I love so much from the '50s and '60s! They're from Anthropologie and they might be my absolute favorite looks-vintage-but-isn't-vintage decoration that I have. Last year I made Arrietty a mini tree to match mine and filled it with these ornaments. They're available again this year
online right here
.
I LOVE these lighted trees and I'm so excited that I found one in a petite size this year. I got mine at Target (not available online - come on, Target! argh!) but it is available
on amazon right here.
This little Santa is one of my favorite Disney souvenirs! I bought it in the Germany pavilion at Epcot several years ago and whenever I break out my Christmas decorations this always takes me back to Disney :)
I found these vintage inspired putz houses at Home Goods a couple years back! They came in a big set with half a dozen houses, and I also got a large house to match. They're not online but
here is a similar one
.
This started out as a light-up Santa face that I found at Cracker Barrel, but after a few years the lighting part detached from the back and so I just turned it into a non-light-up Santa face. I painted the inside white so that it wouldn't be transparent anymore. I've always loved vintage blow mold decorations so I was so excited when I found this one! I can't seem to find it online but maybe Cracker Barrel is still selling it in store.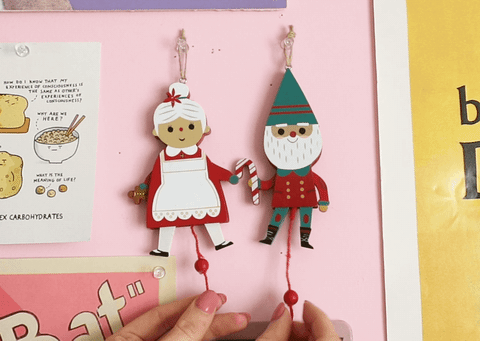 Last but not least, I got these ADORABLE Mr. and Mrs. Claus pull-string ornaments from Target this year. Aren't they the cutest!? Again, they're not online, but I only purchased them last week so hopefully Target still has them in store :)