Here's a little handmade/vintage wishlist I put together for A Very Merry Indie Christmas! At the bottom of the post you can link up to promote your own blog/shop as well as hop around to the other blogs participating to view all the awesome indie goodness just waiting to make it's way under your Christmas tree! :D
1.
Vintage 60's mod lace party dress
from
Old Gold Vintage
2.
Pale blue dot poster
from
Jason Permenter Design
3.
Flying sofa brooch
from
Hairy Sock
4.
Li'l Sebastian felt soft sculpture
from
Royal Mint
1.
Vintage 50's aqua chiffon dancing dress
from
Coral Vintage
2.
Vintage 60's purple faux fur collar coat
from
The Arbor Vitae
3.
California sunshine headpiece
from
Moorea Seal
1.
Small meteorite fragment necklace
from
Hokulewa
2.
Double velvet bow in mint
from
Red Velvet
3.
The cinema hair bow
from
Alexandra Grecco
4.
Fashion illustration art print
from
Matou en Peluche
This weekend CASEY (
CaseyLeigh
), DANIELLE (
Changing Lanes
), JANEL (
Run with Scissors
) and I are co-hosting a
VERY MERRY INDIE CHRISTMAS
!
This is an opportunity for you to LINK UP YOUR BLOG
plus your own handmade/business products or other favorite holiday gifts
. Our goal is to promote the community of online commerce, as well as meet and make new friends. And find a few gift ideas too!
HOW DOES IT WORK?
You link up on any ONE hostess' site. Our links will be interlinked. Your post will be displayed on all our sites.
That is a reader audience of more than 7,900.
So, grab a button and get ready to hop .... then shop!!!!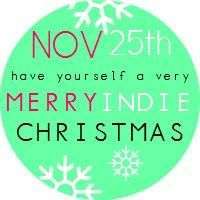 TO PARTICIPATE FOLLOW THE FIRST FOUR HOSTESS LINKS. THEN VISIT, COMMENT AND FOLLOW OTHERS. THIS IS HOW NEW RELATIONSHIPS FORM. MERRY INDIE CHRISTMAS!